Go back to: THREE PILLARS OF SUCCESS
Here's the question you're probably wondering.
Will this work for me and my family? Our situation is different so I need to know if it will work in OUR unique situation.
Here's an unqualified answer.
THRIVE IN CHAOS WON'T work for you if:
You want to FIX your child on the spectrum…
You can't imagine, or you DON'T WANT to imagine a NEW, BETTER life…
You're already handling things – every time – in the very best way possible (You're already THRIVING and don't need this.)
You simply want to learn techniques. This is principle based information that will require more depth of understanding and work to put in to practice
You won't commit the time to implement what you'll learn
You think you already know everything
THRIVE IN CHAOS WILL work for you if:
You're already working hard and just want to get better results from your efforts
You're committed to your families happiness but don't know WHAT to do immediately
You feel kinda stuck and want to END the pain of the "low's" of the Autism Roller-Coaster
You're committed to learning to challenge yourself and take the time to learn to do things right, then taking the RIGHT action
You understand the VALUE of a long-term commitment to overwhelming joy and happiness
But you don't have to take our word for it.
You can watch videos for days by CLICKING HERE. There are more than 1,200 FREE videos (more than 90 hours.)
Over 30,000 blog followers CAN'T be wrong.

You can get a copy of our book by CLICKING HERE. It's called "Thrive In Chaos and it's on Amazon right now.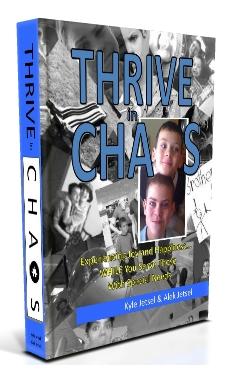 We have become the GO-TO family for those that are ready to STOP simply coping and start to THRIVE immediately… for those that want to change their lives.
What if you could leverage our families experience?
We can teach you the IN'S and the OUT'S. We can show you what worked and what didn't. We've documented, learned and LIVE what we share.
We speak at Autism Conferences. You can hear a preview HERE.
Or you can download the zip files (mp3 format) HERE. And listen to it on any device you'd like.
But be warned. The preview is 40 minutes long.
We'll even let you see the "Critiques" of what we do in the seminars. CLICK HERE.
Not to brag, but on a scale of 1 to 5, 5 being the best, we got ALMOST ALL 5's.
How'd that happen?
Parents, just like you, KNOW great, easy to follow information when they see it.
You see, trying everything you can think of (just because it SOUNDS good) doesn't work. You've got to spend sacred time on the right things in the right way at the right time
YOU HAVE TO KNOW WHAT ACTIONS TO TAKE AND WHEN.
And we're not just talking about getting ONE-TIME RESULTS. We're talking about LONG-LASTING RESULTS BASED ON PRINCIPLE BASED TECHNIQUES.
Practice makes perfect.
Nonsense. Practice makes permanent.
Too many people are practicing tactics that are "just plain wrong" and making them permanent.
Bad idea.
We'll make sure you know and understand how to apply (the Pillars to THRIVE) in everything you do.
THEN… your actions (and practice) will FIT in to the "PRINCIPLES" that have been proven to work… over and over… and over.
We're (almost begging) families that are ready to THRIVE to contact us immediately.
Next: HOW IT WORKS